Dr. Yoav Orbach is Jerusalem's English-speaking expert in dental implants, regenerative and restorative dentistry, putting smiles back on the faces of thousands of patients who have lost one or more of their teeth.
Dental implants are replacement roots that are placed into the bone under the gums. Porcelain crowns that are designed to look and feel exactly like your own teeth are placed on top, with full strength and functionality. Dental implants are the most structurally sound and attractive replacement for extracted or missing teeth. They can even be fitted in one visit with our Same Day Implant service!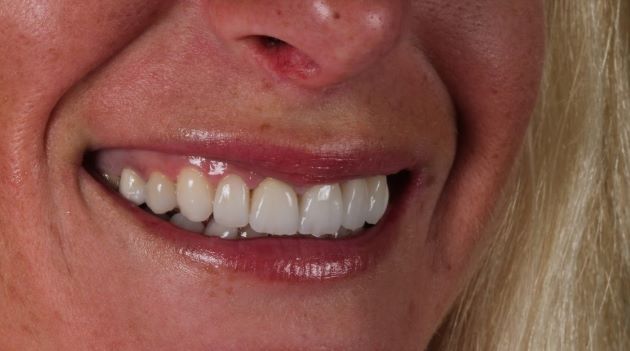 Replacing lost teeth with dental implants can help you restore a youthful smile and enable you to talk and eat comfortably. Implants also help protect the underlying bone structure and preserve the adjacent teeth by distributing the forces more evenly throughout the mouth while eating. Many people have found that permanent implants are preferable to ill-fitting dentures because they look, feel and function like natural teeth, and you don't take them out at night!
Because dental implants become fully integrated into the bone of the jaw, they actually prevent the bone from shrinking and collapsing over time, helping to maintain your youthful facial structure and keep you smiling. Over the past 30 years, dentists have demonstrated an extremely high success rate with dental implants. They are almost guaranteed to remain in place for a lifetime.
Jerusalem's Expert in Dental Implantology

Dr. Yoav Orbach has a Mastership in implantology from Loma Linda University in California and the highly-respected gIDE Institute, and he is an alumnus of the Steigman Institute in Heidelberg, Germany. He is also a Fellow of the International Congress of Oral Implantologists. He lectures in Israel and internationally, and has been awarded prizes for implant cases that he has presented. He sits on the Advisory Board of the Alpha-bio Tec implant company.
At Dr. Yoav Orbach's Jerusalem dental clinic, we use dental implants made from biocompatible titanium posts that mimic the tooth's roots, together with beautiful porcelain and zirconia crowns. These are made to match and integrate with your natural teeth, so they are virtually undetectable.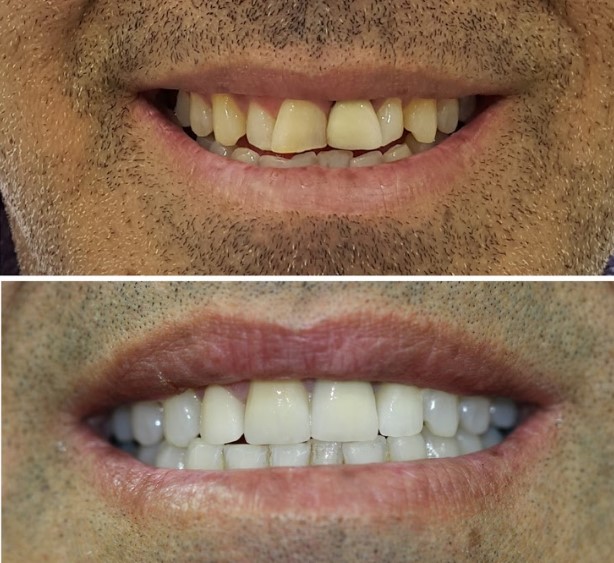 Advantages of Dental Implants
Dental implants have been widely available for the three decades, and Dr. Yoav Orbach has researched and documented their many advantages over fixed bridges or removable dentures.
Porcelain Bridges usually rely on the support of adjoining teeth, which requires the reshaping of healthy teeth for anchoring the bridge. This can weaken the supporting teeth and bone structure and cause gaps to open up between the tooth and the bridge, resulting in decay and possible need for root canal work. Over time many people complain about the dark lines and metal shine-through of their bridges and crowns, due to the shrinkage of the surrounding gums. This issue can be eliminated by using the latest dental implant technologies, or in certain cases esthetic Metal-Free Crowns.
Dentures can improve the appearance of the face, but they also cause extra pressure to be exerted on the underlying bone structure of the jaw, causing severe bone loss over the years. This in turn will cause major discomfort and pain to the patient. Dentures can be socially awkward and need adjustment, relining or replacement every few years. Patients sometimes mention their lack of confidence with their dentures, and their discomfort with putting their teeth in a cup overnight!
For these reasons, as long as your bone structure is sound, we usually recommend implants as the best replacement for missing teeth. Today, thanks to Dr. Orbach's advanced training and experience in implantology, he can even treat cases with extreme bone loss, thanks to advanced bone regeneration procedures, so that implants can be offered as a solution even in these difficult cases.
Dental Implant Procedure
Before recommending dental implants, Dr. Orbach and his Jerusalem dental team will take careful measurements, using a combination of CT scans and digital photos, to determine the condition of your gums, jaw bone and surrounding teeth. He will discuss with you the different options available and develop an individually customized treatment plan for your implants.
Based on the scans and our 3D impression of your missing tooth, he will order a high-quality porcelain or zirconia crown from the best Jerusalem-based master ceramicist. The process of implanting the titanium post in your jaw is mostly painless and, within just a few weeks, the bone around your new implant will fuse and integrate, so that the implant becomes part of your bone. The crown is then strongly bonded to the implanted post and shaped to fit perfectly, until each implanted tooth looks and feels like one of your natural teeth.
If other dentists have turned you down for implants, talk to Dr. Yoav Orbach about preparatory treatment options. As an implantology expert, Dr. Orbach can advise on and carry out regenerative procedures such as bone grafts, sinus lifts and gum surgery where required, which may then enable you to have implants fitted.
Our dental implant procedure – whether for one tooth or multiple teeth – can be carried out over several visits to our Jerusalem clinic, or ordered and then implanted in one day – click here to find out about our Same Day Implants service.
Whether you are living in or visiting the Jerusalem area, or traveling to Israel from overseas, call us now about scheduling your single or multiple implants treatment. Click here to schedule an appointment for a no-obligation dental implants consultation.